Nourishing the Planet Co-Director Danielle Nierenberg Speaks at Barilla's Food & Nutrition Forum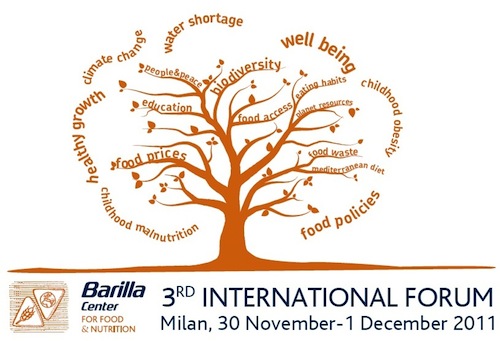 "From Sub-Saharan Africa to right here in Italy, farmers are using agriculture to not only improve food security and to improve their livelihoods, but they are growing and processing foods in ways that contribute to environmental sustainability. These innovations are changing the image of agriculture from a creator of problems to a provider of solutions." -Danielle Nierenberg, NTP Co-Director
Nourishing the Planet Co-Director Danielle Nierenberg was a featured presenter on the first day of the Barilla Center's International Forum on Food & Nutrition. Speaking on the "Geoagriculture: Comparison of Agricultural Policies" panel, she drew upon her research and on-the-ground experiences in developing countries around the world to report on innovations that are helping reduce food waste, eradicate food insecurity, and nourish the planet. Watch the video of her presentation by clicking "View All Videos" here.
---
About the Barilla Center Third International Forum on Food & Nutrition
Limited resources, climate-change-induced weather irregularities, and an increasing population have all put a strain on agrifood supply chains in recent years. With markets still enmeshed in a global food crisis that has contributed to skyrocketing prices and widespread food insecurity, it is increasingly crucial to critically examine which policies are helping feed the world's hungry – and it is even more important to fix the ones that are not.
In 2009, international food conglomerate Barilla Group founded the Center for Food and Nutrition (BCFN), a multidisciplinary think tank dedicated to the analysis of the economic, social, scientific, and environmental issues pertaining to food and nutrition. Its International Forum on Food & Nutrition is an annual conference that brings together scholars, activists, and policymakers to put into action concrete plans to improve public health and reduce food insecurity in both developing and industrialized countries.